ABOUT WIND RIVER POOLS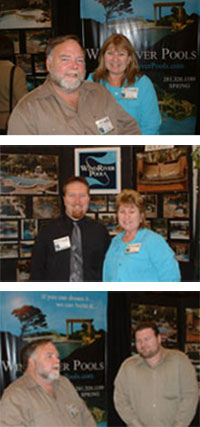 Thank you for considering Wind River Pools. As an independent family owned company, we specialize in the design, construction, renovation and remodel of in ground pools and spas. Our founder, Keith Lampton is a native Houstonian and a graduate of the University of Houston. He and his wife, Karen, have owned and operated Wind River Pools since its beginning in 1978. Their sons, Jason and Travis, throughout the years have added their support and expertise to the business as well. We would appreciate the opportunity to work with you and hope that we can add you to our growing list of satisfied customers.
You will find that Keith is completely at ease talking "nuts and bolts" with the most technical of customers but his artistic ability truly shines with those more aesthetically inclined. He is a creator and innovator of designs and techniques, many of which have been adopted throughout the swimming pool industry. Rock waterfalls, colored plaster, pebble plaster, beach entires, elaborate fountains and vanishing edges donned his pools long before becoming the popular trends of today. His imagination coupled with unsurpassed attention to detail has rendered some incredible results.
From start to finish Wind River Pools can provide what it takes to make your dream a reality - on time and for a fair price. Whatever you envision, from a new pool to a new outdoor kitchen to a remodel, we listen, get to know you and then build your backyard escape just the way you want. Our bold unique designs with special options are sure to please. You don't have to settle for the ordinary. Experience the difference. You deserve it...Why not contact us today!